I am freaking out about all the stuff we want to do to our house...inside and out. We have already done so much and we haven't even lived here 7 months. See
here
for a refresher. I know that when the house is done, I will wish I hadn't rushed things. But I just have so many ideas and want to get started!
The first room I want 100% D.O.N.E. is L's room. My initial inspiration (mostly for color) was this room:
I just love the idea of putting blue on a little girl's wall. And it is SO Layla.
My Grandma worked her tail off to do Layla's big girl quilt and a few pillows (she threw those in as a surprise!) and gave them to us at Christmas. It made my day! :) You can find the tutorial for the quilt
here
and pillows
here
.
After getting the quilt, looking for accessories and making sure I'm 100% OK with this paint color and pallet...I started to hesitate. Let's take a look at the paint chips (all Benj Moore) below and you guess why I'm a little freaked.
How in the WORLD did that red get in there?! This was not my intention...I don't want my 2 year old having a red, white and blue room (Oh say can you see, By the dawn's early light! ugh...). So in an effort to make me feel better about this, I have spent hours...and I mean hours on Pinterest. Now I'll be honest, I get side tracked and if I would have just focused, I could have found this in 2 minutes. But in my effort to make myself feel better, I found this gem: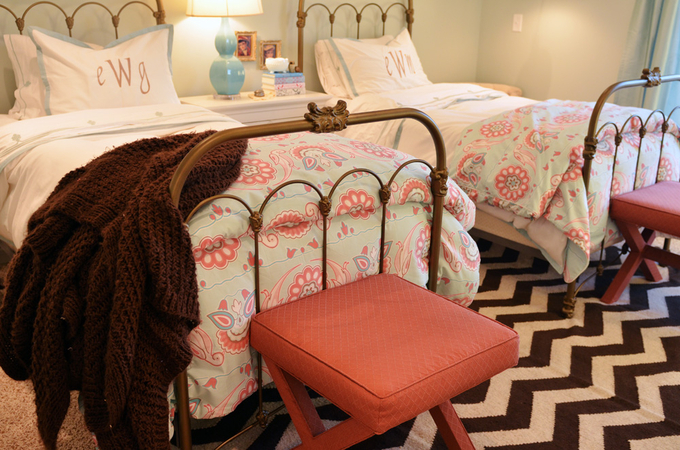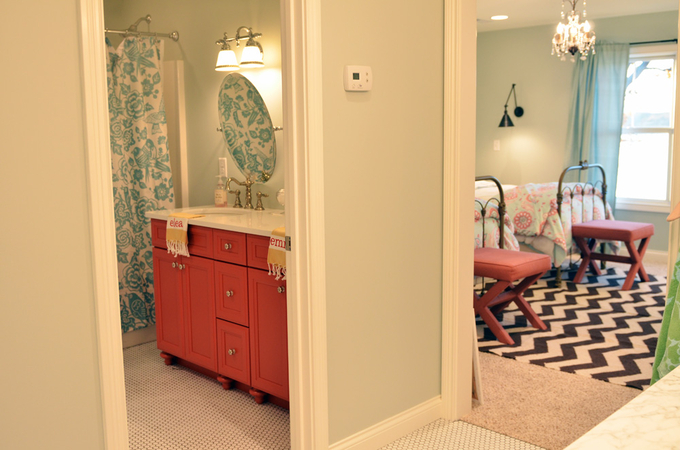 Those pics are a little yellow, but I believe the reds she used are more of a super dark pinkish orangish color (these are all very technical terms of course). Now I feel better about the red and I have redesigned L's alphabet art work to reflect and incorporate the red to make it look like I did this on purpose. Take a look:
I'm feeling better about things now. Whew! I was scared my Grandma was going to have to make another quilt (LOL...just kidding Grandma!). Now for our "to do" list to finish L's room:
1. Paint (the thought of holding a paintbrush for even 5 minutes after painting the entire house this summer makes me shudder)
2. Figure out shelves for and where to put her reading nook (the pillows in this post are going on the floor in that corner)
3. Order and hang artwork (picture above, pictures from this
blog
and frames, maybe more shelves for accessories?!)
4. Figure out window treatments...which will be the death of me
5. Hang mirror, wall hooks and find a cute basket for her dress up area
6. Hang chandler in front of closet
7. Maybe find rug if we have any money left...doubtful LOL
I'm feeling pretty accomplished now that I've written this post. That's why I love writing blogs...I get great ideas from people, can put my to-do list out there and HAVE to stick to it, and this is really the only way Bryan and I communicate ideas. Haha, hope you are reading this at work BB...you have some
shelves
to build! :)